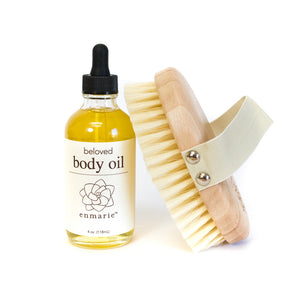 enmarie® Body Love Set
Regular price $99.00 Sale 4 reviews
Valued at $120
Jump start your daily enmarie® dry-brush and body oil routine with our enmarie® Body Love Set.
Dry Brush massage
+ shower or bathe
+ apply clean, plant-based enmarie® oils
---
= healthy, hydrated, glowing skin
Includes:
4 oz/120 ml enmarie® Beloved Body Oil
1 enmarie® Dry Brush
Product Description
Enmarie® Beloved Body Oil
4 ounce size/120 ml
Enmarie's Beloved Body Oil is ultra-softening and uber-moisturizing, leaving your skin feeling smooth and hydrated. Loaded with fortifying omega fatty acids, our Beloved Body Oil helps to maintain skin's supple and elastic appearance. It softens and soothes, leaving a heavy emollient effect that soothes and relieves dryness.
Enmarie® Dry Brush
Dry brushing is an excellent way to rid the body of surface impurities, dead skin cells and renew the skin. It stimulates blood circulation by bringing more blood to the outer layers of the skin. It energizes and invigorates.  Our enmarie® dry brush is made of a medium-strength bristles making it an excellent brush of which to begin the routine of dry body brushing. The ergonomically supportive hand strap yields extra control. The curved cut bristles are dense and even, providing a smooth distribution of tension when massaging the skin.